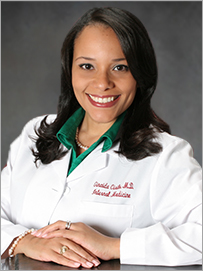 Ginaida Cirilo M.D. FACP
Internal Medicine
Caring for ill patients has been Dr. Ginaida Cirilo's passion since her childhood. She vividly remembers when, at age 6, she "prescribed" a medication to her aunt who seemed to have the common cold. Growing up in the Dominican Republic, where she obtained her medical degree, she was exposed to a vulnerable population, with very little resources. This experience increased her compassion and intensified her love for medicine.
Dr. Ginaida Cirilo decided to focus on preventing and treating diseases of adults. She completed her Internal Medicine specialty at Drexel University/Saint Peter's University Hospital, in New Jersey. She was selected Chief Resident after graduation, with the role of teaching medical students and residents in training.
Since 2013, Dr. Cirilo has been practicing in Dallas, TX, which has become home for her and her family. In her free time, she enjoys playing with her sons, indoor cycling, reading and watching movies.
Professional Societies:
American Board of Internal Medicine
American College of Physicians
Texas Medical Association
Dallas County Medical Society